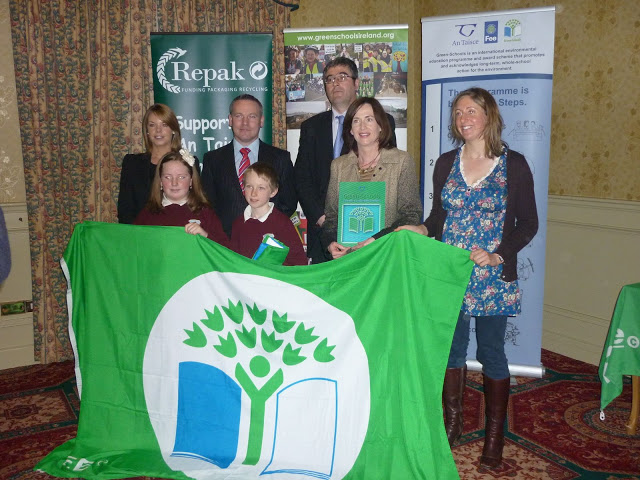 [one_half]
Green School Committee 2019-2020
In 2018, Kiltiernan NS were delighted to receive our sixth Green Flag on Biodiversity. Two committee members Iarla and Corey, along with Ms. O Doherty and Bridget were delighted to accept the green flag on behalf of all members of the school community. We learned so much about our school habitat and what flora and fauna we have living around the school grounds.
Our next project is to take part in the process to get our green flag for Global Citizenship- Litter and Waste. Our new committee has been elected in September 2018. We have members representing classes from every class from 1st class all the way up 6th class.
During the next two years, the committee will endeavour to teach all students in Kiltiernan NS what it means to be a citizen in the world and how every little act makes a difference. We will conduct awareness surveys and compare results from the start of the process and then retest to see how much our awareness has been raised. We will be looking to use Fair Trade products and understand how trade agreements help countries to develop.
In March 2020, we will apply to receive our seventh green flag, come back and check how we got on!
Kiltiernan N.S Green Code
Litter and Waste
Use both sides of the page when writing
Photocopy both sides of the page
Recycle sheets for use on the other side in the infant classroom
Reuse materials for art
Use scrap paper for art
Use egg cartons for paint
Reuse newspaper for art
Reuse envelopes
Use recycled printer paper
Use recycled toilet paper
Use reusable lunchboxes/containers
Use reusable bottles/drinks containers
Compost
Recycle plastic, paper, glass, batteries, mobile phones
Use rechargeable batteries
Refill used ink cartridges
Energy
Turn off lights when not in use
Turn off computers and other electrical equipment when not in use
Turn off heat when it's not needed
Display Turn it Off signs throughout the school
Turn off interactive whiteboards and laptops at break time
Ensure no windows are open when heat is on
Water
Turn off taps
Look out for dripping taps
Fill dishwasher or washing machine before using it
Put full water bottle or hippo bag in toilet cisterns to reduced amount of water being used
Use basin when washing dishes or paintbrushes
Use eco-friendly washing products
Install rainwater butt
Use rainwater to water plants and window boxes
Biodiversity
Set up bird tables
Create compost from waste food
Plant window boxes in Spring/Summer
Plant wildflowers[/one_half]
[one_half_last]
Green Schools' Committee 2019/20
Grace Creedon
Emily McTigue
Gabriel Proano Connolly
Ella Ward
Matthew Heffernan
Harry Hughes
Mary Divilly
Ultan O'Neill
Martha MacAdam
Cian Phelan
Caleb McCracken