Naomi's Workshop of Sound
On the 22nd of November 2016 Naomi Lavelle (a sound scientist) came to our school. She came to tell us about the science of sound. It was really fascinating. Here's what she told us.
Naomi showed us many experiments. She started off with an experiment involving 2 balloons. Inside the 1st balloon was a 1 cent coin. Inside the 2nd balloon was a hexagonal nut. She asked us to make a prediction that when you rub it off, which balloon would make the loudest sound. I said that the balloon with the coin in it would make the biggest noise. The balloon with the hexagonal nut made the most sound. This experiment was cool.
Our second experiment was about a cup and a wet string. The cup was used to amplify the sound. We then slide our fingers along the string. It made a loud sound but squeaky and quirky.
After that, we did a test with a large tube with mesh inside. Firstly she used a lighter to heat up the tube. When it was vertically turned down it made a huge sound. It did not make a sound when it was turned horizontally, because air could not move inside the tube. It was mind bobbling.
Next we had a vortex cannon. This proved that we can see as well as hear sound. Air came out (making sound) in a smoke like colour and knocked the plastic cups we had previously on our heads.
Finally the last experiment was with non- Newtonian fluid made from cornflour and water. She put it on a plastic plate and placed it on a sound speaker. We put sound through the speaker on volume 8. The hertz was 45. The mixture started rising from the plate and falling back down with the vibrations.
We are so grateful to Naomi for coming to our school. We learned so much. It was certainly fascinating. We thank you for coming to our school to celebrate Science week.
By Stephen
5th Class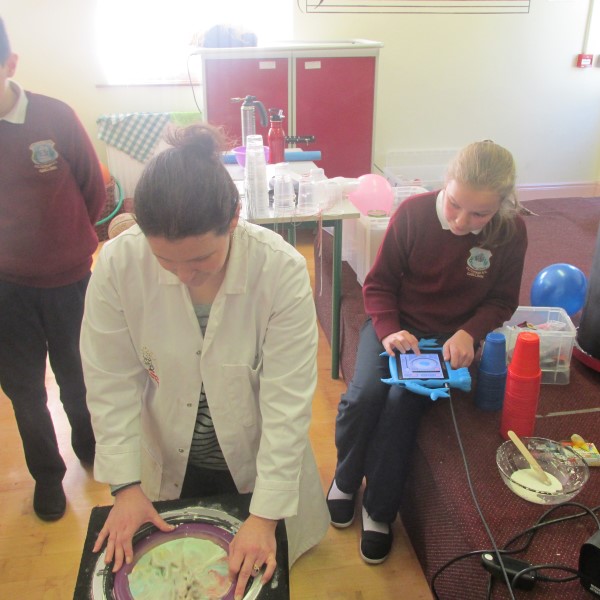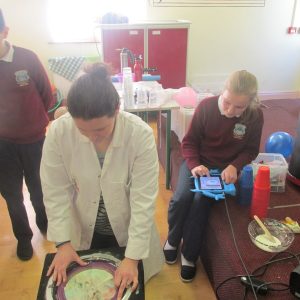 https://kiltiernanschool.ie/wp-content/uploads/IMG_2138-Custom.jpg
600
600
emerb
https://kiltiernanschool.ie/wp-content/uploads/Homelogo.jpg
emerb
2016-11-27 22:43:42
2016-12-18 19:22:30
Naomi's Workshop of Sound