Winter in the Middle Room
We had a very busy winter. In November we had rehearsals for our Christmas Concert. Pat McGrath from News2Day came to our school to interview us about our Artist in School Scheme with our school in partnership with puppeteer Tommy Baker. We were featured on News2Day and Six One News!!! We were very proud and felt famous!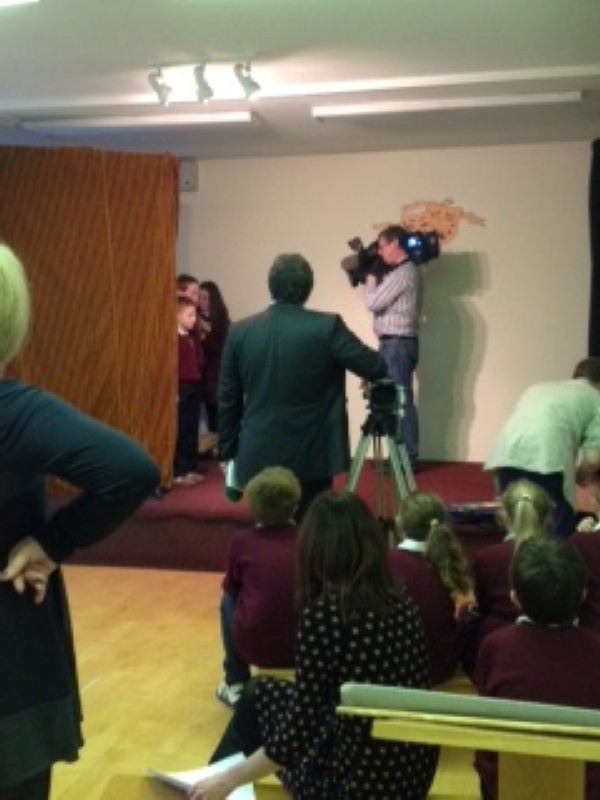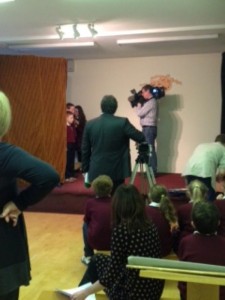 The Parents' Council put together a beautiful calendar that we launched the day before our Christmas Concert. They took individual portraits of all the children and put them into the months in which they were born. I was born in June and Grace was born in August. Some others had lots of faces featured while January only featured two children, Ian and Sarah!
Dawn from Dogs' Trust, came to talk about 'How to Take Care of Your Dog'. She brought along a toy dog called Bobby. She told us a story about an abandoned golden retriever puppy and how she was successfully rehabilitated, became rehomed and got a new owner.
Our Christmas Concert in Labane Hall was very successful. We did a play about Irish legends. Adam Carr was Finneígeas and he had to wear a funny wig. Grace was an old lady with Tara Keane and Emma Bruen. She said lines like "Oh tis terrible, terrible, terrible…Sure it is, sure it is, sure it is…" It was great fun acting on stage and getting a reaction from the audience.
We had a Garda Visit. Two guards came to our school. Their names were Philip and… Philip! They are from Craughwell. They showed us pepper spray and a baton. They told us never to talk to strangers and always wear your seat belts.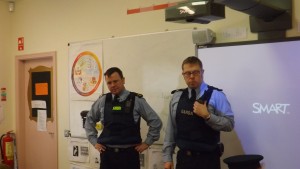 We also went Carol Singing in three local nursing homes. We went to Labane, Ballindereen and Kilcolgan Nursing Homes. We got lots of sweets and fizzy drinks from the residents and staff. Thank you to all at the Nursing Homes! We travel with Donoghue's Coaches who give us the bus for free, each year. Thank you! We look forward to visiting every year.
When we came back from our Christmas break Séan Kilduff, a student teacher from Mary Immaculate Collage came to our classroom for Teaching Practice. Our favourite subject with him was a Science lesson about Energy and Forces using cars and ramps in the halla. Everybody was sad that he had to leave…especially Ms. Fenlon because she now has more lessons. Poor teacher!
We had fun in the snow as snow fell one day in early January while we were in school. We had great fun playing in the snow, throwing snowballs and building snowmen. It was the best school day ever. It was a good job teacher let us play in the snow as there was no snow since!
The Write-A-Book is back and everyone is thinking of their ideas. We decide on the genre first: fiction or Non-Fiction, then on an idea, based on what we are interested in, what information or resources we have and then write out a proposal. If Ms. Fenlon likes our idea we then sign a contract with our 'editor' a.k.a. Ms. Fenlon! We need to 'stick to our plan' and complete the book by February 23rd. We write a first draft in our copies, get it edited by our friends and our teacher and then type it out if we want. This year everyone wants to type. Many of us are writing non-fiction but this year there are several fiction books as well which teacher is looking forward to reading and even a book of poetry by Tara. I am doing my book on 'Ireland's Freedom', while Grace is writing about the 'Dunmore Festival'. The deadline is closing in and we are trying to get every person 'over the line'. When we finish our books the class sings 'Hallelujah!' for every finished book! I can't wait to read everyone else's finished book. We are all authors already as this will be our 2nd or 3rd book each…Eat your heart out Michael Morpurgo!
by David Mannion & Grace McKermitt
https://kiltiernanschool.ie/wp-content/uploads/DSCF2322-Custom.jpg
451
800
5ch00lAdm1n
https://kiltiernanschool.ie/wp-content/uploads/Homelogo.jpg
5ch00lAdm1n
2015-02-17 22:29:28
2015-02-17 22:29:28
Winter in the Middle Room